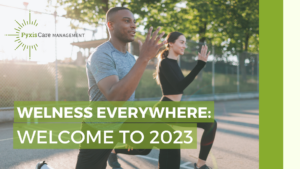 Dear Friends,
Happy New Year from the PyxisCare Management team and welcome to 2023, the Year of Wellness Everywhere.
Wellness, well-being and improved health has been trending for a few years now.  But the challenges of the past few years (covid, social change and increased stress) have finally aligned in a positive way, to make prioritizing well-being an expectation rather than a novelty.
Thanks to technology, many of us have jobs where we can work from home. This made it even easier for PyxisCare to launch PyxisCare Anywhere and serve clients when and where they need it most.  Our Employer Solutions division helped our clients become healthier and helped our businesses save money on escalating healthcare costs.  Above all, our Nurse Client Advocates (NCA), Relationship Managers  and Client Service Coordinators (CSC) served clients diligently, compassionately and expertly.
Wellness is NOT a luxury – it's a normal part of life and every one of us deserves it.  I expect 2023 to prove this out – we are already seeing companies step up to offer more support to employees and families bring in expert help. Mental health remains a priority.
2022 was a particularly challenging year for me and my family, with the loss of my mother-in-law and very recently, a dear friend and co-worker, Sarah Herrington. For those who knew Sarah, we all share in this painful loss both personally and professionally. The sudden loss of my mother-in-law, Marie, meant taking care of my husband, my father-in-law, my children and myself – including a relocation to our home. Even when you're prepared, grief is hard. Caregiving is a calling and though I do it for a living, it's still emotionally taxing and I simply miss her.
Beyond what words can convey, I am proud of our team and grateful for our clients. From the PyxisCare team and from me personally, thank you for a wonderful year.  Join me in looking forward to 2023 – another year of growth and wonder for us all.
Warmly, Mindy