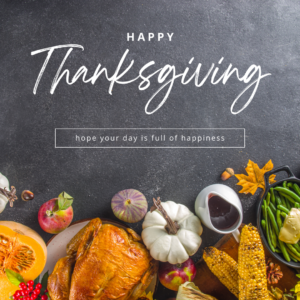 Happy Thanksgiving Friends,
The PyxisCare team spends the month of November celebrating all that we're thankful for. Our loyal clients, collaborators, referral network and friends continue to serve as inspiration for our work, and are responsible for the success of our services.
Caregiving is not a simple task; it requires compassion, kindness, expertise and a drive to help people that outweighs the emotional and physical toll.  We are grateful for the millions of family and friends who provide caregiving to loved ones, especially those who are making difficult end of life decisions or who are experiencing life changes due to medical conditions.
My team is grateful to corporate and small business leaders who make smart and compassionate decisions for their employees everyday, ensuring they have the best in benefits and wellness support. And we thank the many advisors who work closely with PyxisCare to ensure holistic solutions for our shared clients.
I am especially humbled to work with the finest team of nurses, advocates, client service specialists and benefits experts in the business of care coordination and caregiving.
We are honored to work with you, and for you. Best wishes for a restful holiday.
Happy Thanksgiving!
Mindy Jones
Founding Principal, PyxisCare Management