At PyxisCare, our priority is to provide you with the highest level of service and expertise to help you find the best healthcare solutions for your loved ones and yourself. We support you, so you can support them.
You want your decisions to lead to improved quality of life, control and dignity for your loved ones. Through proactive planning, we can help you avoid the overwhelming stress caused by emotional turmoil, medical complexity, insurance paperwork and the implications of fast-paced decision-making. Our unique brand of care coordination helps you meet your responsibilities while making the most of your time and resources.
Ideally, each engagement begins with a comprehensive, proprietary assessment addressing the full scope of the client's needs in five interrelated areas: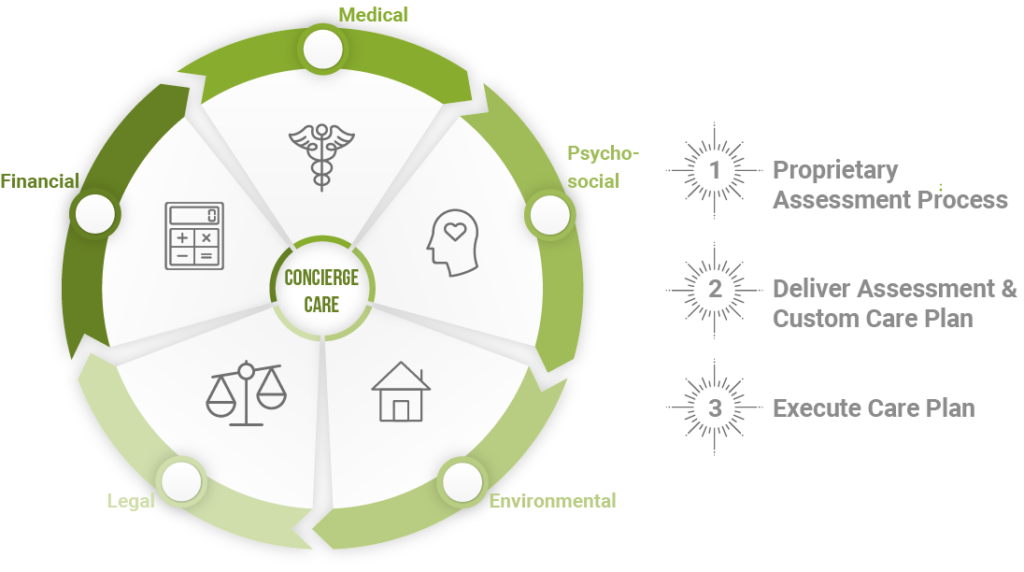 Based on this assessment, your care navigation team – led by a Nurse Client Advocate – builds an informed care plan that prioritizes critical issues, personal preferences and the implementation of custom solutions that will improve both health and lifestyle.
Of course, we often step in to manage a situation that is at a crisis point, requiring a quick onboarding and then direct, on-demand involvement.
Three types of client engagements
Whether you're an individual looking for help with loved ones, an administrator of a trust or an employer seeking a healthier work environment, PyxisCare can deliver extensive healthcare expertise and support services for you. We offer three main types of engagements:
Get in Touch with
One of Our Experts
Start the conversation by telling us
about your specific challenge.