Two of the most common words that we hear in client interviews and as we begin engagements with individuals and companies are: TIPPING POINT.
As in…."We had passed a tipping point for my mother and we didn't know it because we were so overwhelmed with our day to day."
"I knew we were approaching a tipping point, but I felt like we couldn't avoid a crisis."
"Our company hit a tipping point where many of us were balancing caregiving duties with full time jobs and I could see the wear and tear on our team."
You tend to HIT a tipping point. Usually "tipping points" like these, force decision-making
because action has to be taken. PyxisCare shines in this area—we take pride in intervening and mitigating crisis as it happens and making a difference immediately.  Often clients come to us needed immediate help.
However, we DO have clients who are focused solely on wellness and prevention strategies to ensure they avoid costly mistakes down the road. Our vision is that one day, health and wellness transition into a proactive space where there is more planning and preparation for the challenges that people face…BEFORE you hit a dangerous tipping point.
Until then, we at PyxisCare are focused on turning tipping points into TURNING POINTS.
And we have a proprietary process that creates that turning point for our clients. It's our
thorough custom assessment that kicks off most engagements.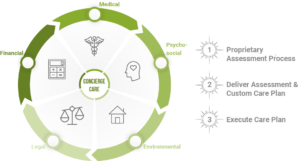 I've been passionate about ensuring the "whole person view" is used when we are working with individuals; our assessment uses a multi-factor approach. Your health and sustainable wellness is a combination of many factors, chiefly: medical, psychosocial, environmental, legal and financial. These key drivers define your capacity to progress in the right direction and stay the course with treatment, prevention and intervention.
A client recently said: "When I look back on that time in my mother's life, I see the IA (initial assessment) and care plan as the turning point to get her back on the road to self- sufficiency."
I think often about this statement, and dozens of others like it, when I think about what we do and what makes PyxisCare special. That particular person used the resulting care plan as a road map back to health for her loved one.
Some clients even go back and do an assessment if we onboarded as a result of a crisis. They want that full spectrum view of their needs without the pressure of an urgent issue needing resolution. One client said the assessment put him "out of his comfort zone" but also mentioned it was the most valuable part of the service because it allowed him to prioritize some unresolved safety issues in his environment.
This feedback and other customer-centric data helps us to be better partners. To provide a consistently improved experience for clients. To proactively identify pain points and step in to help.
I'm heartened to know that we are offering something unique and valuable that truly allows people to reach their TURNING POINT.