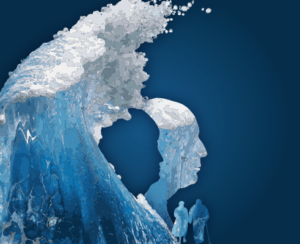 America is aging; in fact, one in four Americans today is over the age of 55. The U.S. Census says that within the next decade, the number of people over the age of 65 will be more than the number of those under the age of 18. And, the oldest of the baby boomers (boomers are the second most populous generation after their own children, the Millennials) are now over 70.
This significant demographic shift has been called the Silver Tsunami – not my favorite term- but commonly used to describe the impact of a large aging population. You might imagine this affects an individual's personal decisions and on a much larger scale….public policy, the economy, housing trends, and more.
We are aging, and we plan to age well.
The boomer generation grew up with high expectations for their quality of life; this especially applies to how they age. And those expectations continue to grow each generation – as innovations in science and medicine find ways to prolong both quality and length of life.
A key tenet of this expectation for many seniors is the hope to "Age in Place," or the ability to remain in your own home and community safely, independently and comfortably as you age, and for as long as possible.    Aging in place tends to improve senior's quality of life because they have comfort in their surroundings and can continue familiar patterns, habits and interactions over which they have control.
Aging in place is a smart and achievable option for many, but necessary accommodations should be carefully considered and re-evaluated on a regular basis with a professional.  Our experts at PyxisCare consider ENVIRONMENT to be just as important as other aspects that affect a person's long-term health and wellbeing. If you have a parent living at your home – or theirs – when was the last time you evaluated your home for fall risks?  Have you had an occupational therapist or a nurse mark the thermostat, stove, or remote control for a senior with failing eyesight? A PyxisCare assessment will ensure your loved one is as safe as possible.
All Together Now
Communal living is a wonderful option as you "age out" of aging in place – your loved one may prefer being more social or may need support with physical therapy, regular meals and nutritional planning.  We all know by now that social interaction and being in community with others can prolong quality of life.
Over our decades of combined experience, we have evaluated hundreds of communal living, memory care and transitional facilities, independent living communities, nursing homes, multigenerational family homes and other environmental spaces to find the best fit for our clients.  The great news is that there are many, many options, and resources to help you discern the best path.
The bottom line is, there is no one answer to which environment will best suit your needs; it's a choice that is as personal as the loved one for whom you are caretaking. Contact us if you are ready for expert guidance.