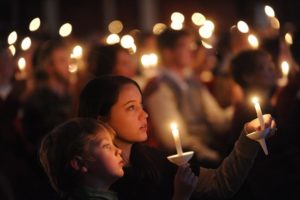 This isn't a Christmas story.  But it's the right time to talk about trauma, depression and how you may be able to help someone. The holidays are a time of joy for so many of us, but it's not that simple for everyone.
According to The National Alliance on Mental Illness (NAMI), people with mental health issues tend to suffer more during the holidays.  64% of people who struggle say the holiday season is much harder on them.
Holiday Blues
The holiday blues are common for all of us.  It's extraordinarily busy and the expectations to deliver a perfect holiday season to family and friends is immense – beautifully prepared meals, the right gifts, parties, celebrations. But what if you have no parties to go to, no one to share a meal with, no gifts? Isolation and loneliness are damaging to your mental health.  What if there are other factors you're worried about – finances or chronic health conditions?
We are celebrating the spirit of the season this year more than ever and I am grateful for my family's health. But in all honesty, this year has been a difficult one – we have experienced sadness and trauma beyond the normal trials and stresses of a busy family of four.
 We lost a teenage friend to suicide and it was devastating. Earlier this year, my children's school was locked down for an active shooter situation. They were safe and the school did the best they could, but it was a harrowing experience for all of us, trying to make contact, and trying to retrieve them, to have them safely with me. I and my PyxisCare team deal with medical crisis daily, but this was frightening, intense and I think about it often.  Especially with the recent school shooting in the news, I know we will continue working through those events.
Pay Attention, Offer Support
It's not surprising there's a skyrocketing need for mental health services and a focus on wellbeing. I know where and how to access support, and I still have to remind myself to slow down, be thoughtful with my loved ones, and to be kind to strangers who I come across. I don't know what's happening in their lives and what they might be dealing with – perhaps trauma like ours, or stress or loss of a job or a spouse or a difficult diagnosis.  I encourage you, as I encourage myself during this busiest of times, to be on the lookout for anyone you think might be struggling this holiday season. A simple question or greeting could make the difference for someone. This year, when I say "Merry Christmas!" or "Happy Holidays!" or "How are you?" I'm going to do my best to mean it…and to listen for an answer.
–Mindy