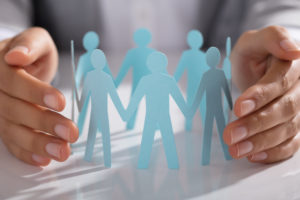 From my point of view, the short answer is YES.  And the good news is that many are beginning to incorporate "Care Economy" strategies into their future planning.
What is a "Care Economy"?  It's roughly defined as an economic system in which genuine caring for people is a top priority.  Care economy strategies were first associated with countries offering generous policy and cultural benefits for those in need of care. However, the strategy of making people-based decisions that also make fiscal sense is hard at work for American companies right now.
Almost every week I see another large U.S. company joining the conversation about care economy issues such as caregiving… and what they're doing to help and engage employees.   Bank of America just published an independent study on caregiving which outlines the strategic opportunity for employers who choose to address this issue now.  Now, before they experience the brain drain and loss of productivity that data shows is sure to hit employers as caregiving concerns rise.
In the U.S., the economic stakes are particularly high and growing more so, with U.S. private sector payroll exceeding $5.6 trillion in 2013. This number includes the many trained professionals who serve in care-related positions—nursing, home health, care coordination, and other health related services like what my team at PyxisCare provides.
The most commonly quoted stat is that 1 in 5 U.S. workers is providing caregiving for a loved one, and it's hurting our economy in lost wages and increased stress levels.  Qualified talent is walking out the door—most frequently at the executive level. For example, the Bank of America study states that:
53% of "manager of managers" name caregiving responsibilities as the reason they voluntarily left a job. 61% of senior executives said the same.
ALL working-age demographics are affected, and all reported that their productivity was undermined to some extent.
There are so many reasons for a company to care—and there are real business benefits to doing so. Of course, there is also the biggest reason to engage employees—because it's the right thing to do. It's hardly a business plan, but let's talk about what you gain: 
Reduced Absenteeism: Employers identified that unplanned absences and missed days of work, late arrival to work and early departure from work impedes an employee's career.
Improved Employee Retention: 53% of employees named the inability to find trustworthy and qualified paid help as their primary reason for leaving a job.

Noteworthy: 62% of US workers expect they will need caregiver referral services in the near future.

Recruiting Advantage: Today, 1 in 5 U.S. workers are also serving as caregivers, and that number is rising as the population ages. Companies responding to this need will benefit as "knowledge worker" talent becomes more difficult to find.
Improved Productivity: 59% of all employees agreed that "Caregivers are perceived to be less committed to their careers than non-caregivers." This is just a perception—but you know what they say about perception and reality….

Just in case you think its only older employees who are affected: 88% of high achievers (25-35 years old with senior executive titles) said that caregiving impaired their ability to perform their best at work.

Loyalty: Employees ranked "Caregiving provider referral service" as the most important of the "very important" reasons to stay with an organization, ranked slightly above personal time off, paid leave and flexible work hours.

Most importantly, don't you want to reward the team who ensures you succeed every day?
You might think it's easier for large companies with deep pockets to tackle this issue/opportunity.  Maybe that's right…perhaps they have more expendable budget.  But keep in mind that thousands of employees also means a huge investment. If you have a small or midsized company, offering support might be more of a reality than you think.
If you're ready to explore your options to participate in the care economy, you can start small. Don't build a program that doesn't have value.  And please don't offer a benefit that becomes a utilization game—affordable but not useful as a real benefit. Employees want benefits with value.  We have more data today than ever, that can lead us to the best use of time and resources.  Caregiving support as a real benefit can engage your front line, and improve your bottom line, too.