"Because of the pandemic, environment became everything as people changed their work and home lives to keep themselves and their loved ones safe. In my experience, employees appreciate the investment their companies are making to keep them safe and well."
— Duyen Nguyen, PyxisCare Director of Personal Health Nursing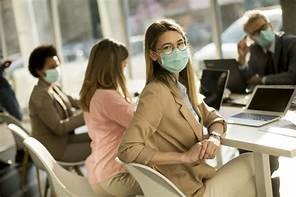 Duyen Nguyen was PyxisCare's first Personal Health Nurse, a position that is embedded in an employer's organization and allows for on-site and immediate engagement to help employers achieve goals – chiefly better health and usage of health plans to improve and sustain employee health. Duyen's role has grown and she now advises on several employer strategic health plans. We've asked her to provide insight on industry trends.
What is the top issue for your clients right now?
I've been advising clients on how to provide a safe and low-risk environment for employees. This is a top concern for employers as they look to maintain high productivity, serve their clients, recruit and retain talent, especially with Covid-19 numbers on the rise. The strategies vary depending on the industry – on-site manufacturing or building sites, versus professional services which can be delivered virtually and other business models. We have installed temperature scanners, implemented workplace policies and testing/tracing operations, provided access to vaccines, trained people in protective equipment usage and supported those who became ill with access to the best care and support services.
How are you working with your clients to solve these problems?
When Covid started last year, I worked with clients to provide a safe environment and guidelines for the employees who were working at the time. Before vaccines were available, I quickly connected with local clinics to provide fast/accurate Covid tests for those who were exposed or had symptoms.
One of the largest initiatives for employers was getting the workforce vaccinated. It was important that we provide easy access to vaccines, so we actually helped to set up appointments for the employees to get Covid vaccines. We also provided education to help allay fears about the vaccine and answer concerns. With that crucial protection, there were fewer cases of Covid among the employees in subsequent months. Since vaccines became readily available, we have organized on-site vaccine clinics at some employers.
Important to all of these tactics is ensuring that employees are connected with primary care physicians and leverage Telehealth visits when and if they need to see a physician quickly.
Are employees apprehensive about returning to in-person workspaces?
Through our combined efforts, clients have returned to work in person. Our companies provide rigorous screening, testing and environmental cleanliness. Employees were hesitant to return at first, but safety protocols have been adhered to and they have been able to maintain business continuity, so employees are safe and the companies are able to deliver. One client has even had zero cases onsite – that has helped the employees feel comfortable and happy coming back to work.
What are employers doing to ensure safe workspaces as employees return?
All the tactics are important but preventative and protective measures are the best way to protect employees. Vaccination, face coverings and continuing to physically distance when it's possible are critical as we see additional spread across the country.
The more employers do to protect their employees, the more trust is established. Providing a safe environment increases trust and productivity.
Are employees utilizing benefits differently since the pandemic and/or return to work?
Yes, the pandemic has changed the work environment significantly – and some work environments will remain changed forever. We have proven some employees can work effectively remotely. And we have proven that we can make the on-site workplace as safe as possible through planning, prevention and protocols. Normalizing telehealth visits helps to maintain or even increase productivity because the employees don't have to take vacation or sick time for their doctor visits.
What significant changes have you seen in the work environment in the past 18 months?
Previously, individuals rarely considered the impact their environment had on their health. With the pandemic, environment became everything as people changed their work and home lives to keep themselves and their loved ones safe. In my experience, employees appreciate the investment their companies are making to keep them safe and well. Now more than ever, employees value a safe workplace, healthcare benefits and access to excellent medical service when they need it most.