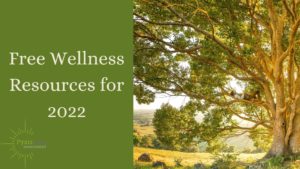 Going into our third consecutive year of the pandemic means we need all the support we can get.  Our mental health is just as important as our physical health, so enjoy this curated list of completely free resources that could make a huge difference in your emotional and mental well-being this year.
Scroll through the unique ways one could choose to destress – from workouts, to coloring, to reading. Some days I get frustrated with technology, but apps and remote personal services have come a long way. At $0.00, try them all, and Happy New Year!
Tara Brach Meditation – It Works!
While there are lots of resources for meditation, Tara Brach is one of the best. Her website contains completely free guided meditations in multiple categories including basic, heart, and open awareness meditations. My favorite one so far, posted in January of this year is titled "What Matters to your Heart?" If meditation is your relaxation technique of choice, this option is for you.
The Johnson & Johnson Official 7 Minute Workout App
Meditation too calm?  Need something a bit more… active? The Johnson & Johnson Official 7 Minute Workout App is a circuit training workout app that lets you squeeze exercise into your day at an intensity level that's right for you. All you need is a chair and about seven minutes. The app has other options beyond the classic seven-minute routine, such as First Timer, Intermediate 16 Minute, and Core Workout. You can also create custom workouts by combining exercises right for you. Swipe the screen one direction, and you can pull in music from your phone. Swipe the other direction, and you see a running timer. This simple app is suitable for nearly anyone at any ability level at no cost.
3. Charity Miles: Start a Healthy Addiction
If running, walking, or bicycling are more your speed, we recommend Charity Miles. Use Charity Miles to log miles and they will donate to a non-profit, thanks to the generosity of corporate sponsors who agree to donate a few cents for every mile you complete. In exchange, you see their logos. You can also use the app to run pledge drives. Charity Miles supports a variety of nonprofit organizations, such as ASPCA, Habitat for Humanity, St. Jude Children's Hospital, UNICEF, Save the Children, and the Wounded Warrior Project. Knowing that your activity supports charitable causes might just motivate you to move every day.
4. Yoga with Adriene: Find What Feels Good
Yoga with Adriene is a free Youtube Channel offering high quality videos for all levels, all bodies, all genders, and all souls. Adriene urges her viewers and subscribers to "Make time for you. Go deeper, have fun. Connect. Reconnect. Do your best, be authentic and "FIND WHAT FEELS GOOD" So if yoga is your go-to way to fight stress, this Youtube channel is for you.
5. A Crafty Way to Heal: DIY Bath Salts
The relaxation benefits of a warm bath and crafting are divine. Imagine combining them to create a project that will leave you feeling accomplished and relaxed. The link below includes 31 Homemade Bath Salt recipes that you can make with things you already have in your pantry! With salt, baking soda, oils, herbs, and fragrances of your choice, you can create the ultimate relaxation experience at little cost. https://www.sunrisespecialty.com/diy-bath-salts
6. Atmosphere
The undisputed champion of relaxation is sleep. A free favorite resource is Atmosphere, which customizes your sleeping environment though sound. Sounds include waves, rain, animals, traffic, music, fans and even their special binaural and isochronic sounds which can reduce anxiety, relax breathing, and even aid in healing. You can pick and choose different sounds from different scenes to create the perfect customized sleep atmosphere for you at absolutely no cost. Happy napping!
7. Free Playlists: From Pandora to Spotify
Many of us turn to music to process and destress from a hard day. Only you know what music brings you calm and healing. No matter where you find your music, you can find a specially curated playlist designed to aid in destressing. Try Pandora's Relaxation station. Spotify offers several playlists geared toward relaxing. Youtube has a channel titled Soothing Relaxation. FREE, FREE and FREE.
8. Coloring Book for Adults: A Free App
The benefits of coloring for the mind are unquestionable. I've done the research and this app has MORE free options than other coloring apps. Coloring Book for Adults offers 168 colors – and all are free! You get 8 free drawings in the Relaxation category, plus several other categories. If you DO become addicted, you can buy a subscription and expand your choices. This coloring app is available on both iOS and Android.
9. The Libby App: Free & Easy Reading
Reading is relaxing and for the ultimate in convenience – the Libby app connects with the library closest to you through your library card and allows you to check out Kindle and other audiobooks.  Download Libby if you want the ability to escape into a fantasy romance, thrilling mystery, or historical biography with absolute ease.
10. Private Journaling? Yes, please, with Penzu
Penzu is a free online journal where you can type to your heart's content. No one is going to steal a look at your innermost thoughts, because your secrets are password protected. Penzu also offers an app so you can. write or access an entry on the go. You can choose to purchase Penzu Pro which unlocks some design options, but all of the basic features are free, AND free of the annoying "buy now" reminders. While there are newer online journaling options, Penzu continues to have the best features available under the free option.
11. Crackle: Sometimes, TV is the answer
It's a stretch to call TV "wholistic wellness" but really, we all use TV to zone out sometimes.  And that might be just what you need. Crackle is a free streaming option created by Sony with popular titles from the past such as Abbott and Costello, The Dick Van Dyke Show, Bonanza, The Greatest American Hero and many more. With a quick sign up, you get access to all of the shows and movies on their platform at no cost. So, if a little old fashioned feel-good TV is your destressing method of choice, Crackle is definitely the way to go.
As we move into a new year, we hope you find your way to better mental and physical health. I hope the resources above give you the break you deserve.
Mindy