Must-Have Online Mental Health, Well-Being Resources
A year ago, fewer than 10 percent of all Americans had tried                                          telemedicine, a virtual visit with a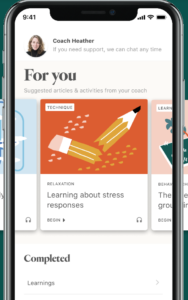 healthcare provider over computer, phone or other device. That was so 2019.
Today, as we embrace social distancing to limit spread of a deadly virus, patients and providers are making telemedicine the new normal.
More mental health and well-being services are available online, too, providing a helpful resource when an in-person visit carries its own healthcare risks. We think these services are worth checking out:
Ginger, https://www.ginger.io
Offered largely as an employer benefit, Ginger boasts on-demand access to behavioral health coaching, video therapy, and video psychiatry that the website says is clinically proven to reduce symptoms of stress, anxiety, and depression. The service is named for the ginger root, a preventative health remedy that originates from Southeast Asia and is commonly used at the first sign of illness, before things get worse. The site advertises one-on-one video or phone sessions "through the privacy of an app."
Modern Health, https://www.joinmodernhealth.com/
Another employer-offered benefit, Modern Health offers face-to-face and virtual support from professional coaches and therapists, plus unlimited evidence-based digital programs, all within a single platform. The support ranges from financial advice to coaching for healthy living. The pitch to employers is that the service can contribute to a more productive workforce.
Headspace, https://www.headspace.com/
With a slogan of "Meditation Made Simple," Headspace offers users an interface that teaches meditation and mindfulness, tools that can bring calm with sessions as short as one minute, it says. The site offers free services for the unemployed during COVID-19 and a free trial for everyone else. But be aware that if you don't cancel within two weeks you will be charged the annual subscription of $69.99. The service offers a $12.99 monthly rate and pricing for students or families.
Have another favorite website for virtual mental health and well-being support? Share your tips with us at info@staging.pyxis.flywheelsites.com.