"I have always had the desire to advocate and be a voice for those who believe that can't articulate their concerns. At PyxisCare, I can assess and address the whole person's needs and not just focus on a diagnosis. I can find out what a client's limiting factors are by utilizing the social determinants of health– whether it be emotional, legal, educational, psychosocial or medical and assist with finding solutions."
 –Sheila P., MBA, MPA, BSN, RN PyxisCare Nurse Client Advocate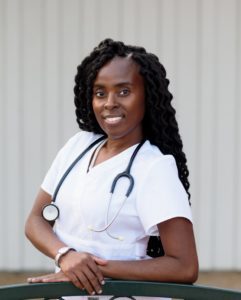 "Nursing is a natural passion for me.  It allows me to care for others, which is sown into the depths of my being. One of my earliest memories is being asked in elementary school, 'what do you want to be when you grow up?' I boldly replied, 'I want to be a nurse when I grow up!' I felt a strong connection to the role of nurse at a young age because I had seen nurses show compassion and spend adequate time with patients dealing with healthcare issues.
"Although I took the extended route to become a licensed nurse, I knew it was one of my purposes in this life. Before becoming a licensed nurse, I received a Bachelor of Arts in Psychology Degree, a Master of Business Administration Degree, and a Master of Public Administration Degree.  I am currently enrolled in graduate school in the Psychiatric Mental Health Nurse Practitioner Track."
Sheila's nursing experience in Long-Term Care, Hospice & Palliative Care, Substance Abuse & Rehab, Infection Control, Occupational Health, Psychiatric/Behavioral Health and Community Health Triage & Wellness Screenings has allowed her to cultivate the problem-solving skills and knowledge necessary to be an excellent advocate.
Sheila is determined to increase mental health awareness, to reduce the stigma attached to mental illness, and help improve underserved individuals' health and social conditions.  Like all our NCAs, she advocates for the whole person not just focusing on the individual's diagnosis or illness.  Her knowledge of behavioral and mental health matched with her servant's heart and problem-solving skills make her an incredible advocate for her clients and a needed addition to the PyxisCare team.