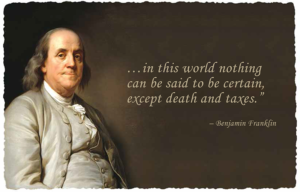 "In this world nothing can be said to be certain, except death and taxes."  — Benjamin Franklin
Benjamin Franklin said these words in 1789, and they are as true today as they were over 200 years ago. It's now a common trope – a joke even – and a way to cope with the seemingly inevitable.
Each year, we dread tax-day, April 15, like we think we might – just might – avoid it just once.  And this year at least, taxes have been deferred.
So, here's the good news: April 15 will look and feel different than it has in past years. The IRS has said individual taxpayers can postpone their federal income tax payments until May 17, without facing penalties or interest, regardless of how much is owed. After that date, penalties and interest will begin to accrue on any unpaid balance.
Taxpayers in Texas, where PyxisCare is based, plus Oklahoma and Louisiana have even more time. Because of a federal disaster-area following the winter storms there, the IRS moved the deadline for these three states to June 15.
While there is no deferring Death, our entire team at PyxisCare is devoted to helping clients live well. An important part of our role as care navigators is to be able to step into life and death situations and use our expertise to reach the best possible outcomes. We go into emergency rooms, we stay at bedsides, and we counsel families through the most complex and heart-wrenching situations. It's part of the job.
But our joy is helping clients reach their best potential, and optimal health for whatever stage of life they are living. Because while death may be deferred, life should not be.