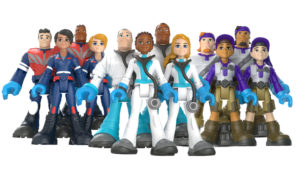 There's no shortage of information about COVID-19, and right now it's important that we hear every fact and every opinion on the unfurling of this terrible disease on our friends, our family and our world.  It's critical that we stay keenly aware of the latest news on flattening the curve, local virus peak times, and guidance on how we can stay safe.
But that's not what this blog is about.
I won't take up valuable time telling you the things you already know about social distancing and how to wash your hands.  We are still in crisis mode as a country and I'm certain you have the basic skills to stay as safe as possible. And I pray that you are healthy and well.
Because the big question is… WHAT'S NEXT?
One thing is for certain, COVID-19 will leave its mark on our society for many years, perhaps decades to come. For almost 20 years now we have been going through TSA airport checkpoints as a result of the 9-11 attacks.  So as a society we know how to adjust to tragedy. We need to be thinking ahead to what long-term effects we will be experiencing from this silent, invisible health threat.
For instance, did COVID-19 just make working from home acceptable – or preferable — for the long term?  Was this the test that proved that we could all use zoom to achieve just as much? Or more? And will this mean we will work in smaller buildings and overhead will be lower for those who pivot to a remote workforce?
How long will we need to wear masks?  Will we have our temperatures taken before entering public places? Cities have grown larger and more crowded; does this event mark a population shift to more rural areas? I can think of a million questions with no answers, but it helps to think and plan ahead.
We've lost a lot of control over our lives over the past months, and that's unsettling for most of us who are accustomed to running businesses, our own lives, and managing the schedules of children or parents. The stats for care giving just went up exponentially.  We all just went into caregiver mode, far beyond what could have been imagined—home schooling, supporting at-risk relatives and friends, and behaving as if everyone we come into contact with could be carrying a deadly virus.  It's surreal, really.
Regardless of your feelings or lack of control, you DO have an important role. We all need to be on high alert for the emotional well-being of our friends and family members, as well as ourselves.  While some might think it's fun to be "off work" or to have more time to bake, many of us are struggling with our new, isolating reality. And many of us are quietly struggling with our newfound, or unwanted duties.
Over the past few months, we at PyxisCare have spent valuable time with individual and corporate clients supporting their ability to be safe and to sustain their lifestyles.  Our clients are often the most vulnerable, with medical complications that put them at heightened risk. Our nurses have been employing every digital tool at our disposal for client families so they can stay in touch with loved ones, safely. And our corporate clients have needed a range of resources, from FAQs about COVID-19, to guidance on medical leave and how to protect their employees from this aggressive disease.
The first question right after physical safety is about emotional support.  Most insurance companies right now are revising or allowing flexibility in their policies to accommodate COVID-related needs, both emotional and medical. Call and ask your insurance carrier or ask your employer.  And never be afraid to ask if you can help a friend.
While the past few weeks have been a challenge, working together with our team of Nurse Client Advocates and clients has made me proud of who we are.  And I'm certain that together, we can handle whatever comes next.