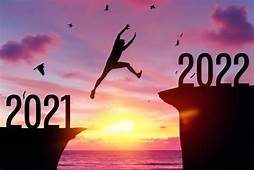 Each January, we have a chance to begin anew.  Like most humans, I'm an optimist and always look for ways to improve myself, my family, my business and my team. I've found good advice, top trends, new knowledge, new technology and fresh tips so I can continue to do a little better, year after year. And I'll share a few, below.
There are some realities we cannot escape.
For instance, the fact that we have just entered into the third calendar year of the COVID-19 pandemic. As much as we'd like to move on, it's not exactly a bad habit we can shake. I have resolved to be more tolerant of the many phases an individual goes through as they navigate this long and exhausting multi-year health crisis.
This time last year, vaccines were becoming more widely available, which gave us all hope for a better year.  And now, anti-virals and other treatments are making their way into the marketplace.  But I'm also seeing schools consider going online again and countries shutting their borders for travel.
At this point, I'd say it's more of a not-so-merry-go-round instead of a roller coaster.
How We'll Do 2022
This year's top trends echo last year's most important areas of focus. And the first of those just happens to be one of PyxisCare's aspects:
ENVIRONMENTAL AWARENESS: Health & Wellness Everywhere
Environment has always been a key aspect of how we evaluate our clients' safety and wholistic wellness. In some ways, environment is THE determining factor (besides genetics) for how a person is able to manage and improve their health.
Safe environments for PyxisCare clients often mean environmental adjustments for elderly clients or use of advanced technology resources for disabled clients.
Wellbeing in the workplace is largely predicated on the work environment.  Those who have the ability to work from home or remotely can control risk factors like the spread of illness, air and light quality, noise and other controllable issues. However, much of the workforce transacts in person in retail or food establishments, meaning they have little control over what happens during work hours.
Employers are taking note and making their environments more appealing and safer with upgraded air filtration systems, open air spaces, and other small adjustments that they hope will help recruit and retain teams. These "perks" may even convert to real savings on premiums as insurance companies take note of workplace improvements. It's been gratifying to help businesses large and small negotiate for better rates and build plans that allow for flexibility and better health for employees.
ALL EYES ON MENTAL HEALTH: 
If you haven't noticed, mental health is on everyone's minds. Another by-product of the pandemic, people are seeking outlets for their frustration, fear and exhaustion. As evidenced by PyxisCare's clients, employers are taking more notice of not only the environmental conditions under which they work – as described above – but also the mental wellness of their workforce.
With nearly 40 million leaving the workforce in 2021, it was the year of "The Great Resignation" with many just saying that the wage did not justify the emotional toll the position.  As we have discussed, healthcare workers – especially nurses -are among the industries suffering the most.
Virtual care visits have become the norm as technology caught up with our needs. Even online appointments for mental health can be difficult to come by, as providers are overrun and in need of their own mental health vacation.
Mental health awareness (also known as psychosocial in PyxisCare's priorities) isn't new and it's not going away, but personally I'm glad that more people are talking about it than ever.
KINDNESS & SINCERITY:
Ok well, I made this one up.  But there's no harm in making a New Year's wish – is there? In actuality, it IS a trend as people try to stem the tide of frustration, political division and health concerns, and learning to live in uncertain times. Humanity is craving togetherness after months of social distance and isolation.  Really – wouldn't we all like a little Ted Lasso or British Baking Show in our lives? If this isn't a trend, I say it's a great beginning for 2022.
Happy New Year – I expect great things from 2022, and I wish you health and happiness.  
Mindy