"Advanced Care Planning allows you to make those decisions now and communicate them to your loved ones and healthcare providers. A clear expression of your wishes can reduce stress, eliminate potential disagreements, and provide peace of mind for your loved ones."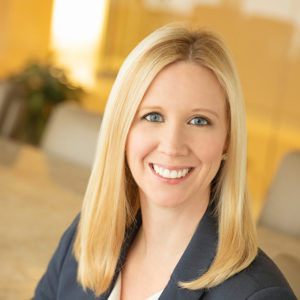 — Ashley McMillan, Partner at Carrington, Coleman, Sloman and Blumenthal, LLP
Ashley E. McMillan is a partner at Dallas-based Carrington, Coleman, Sloman and Blumenthal,
LLP. Over the past 11 years, she has focused her practice solely on estate planning and
administration. She graduated from Wake Forest University with a BA in political science and
psychology before heading to law school at Texas Tech University. She enjoys working with
her partners and colleagues to address the unique situations that face clients when
formulating and implementing their business and estate successions plans.
PyxisCare Choice ensures our clients' choices and wishes are aligned, well-planned and
respected as they navigate health conditions and aging. Our Nurse Client Advocates partner
with legal experts like Ashley to support clients with planning and executing legal and fiduciary
decisions affected by changing health status and estate plans. Michelle Finamore, an
experienced Nurse Client Advocate and Nurse Practitioner leads our PyxisCare Choice
practice, leveraging more than a decade as a palliative care and hospice nurse. Contact
Founding Principal Mindy Jones at mljones@pyxiscare.com to learn more about PyxisCare
Choice.
What does Advanced Care Planning (ACP) Mean?
Advanced Care Planning is the process by which you make decisions about your care and the management of your affairs in the event of your incapacity or death, and then communicate those wishes to your loved ones.
Who should do ACP?
Everyone! Not every plan looks the same, but there is a plan for everyone.
Who benefits from ACP?
Both you and your loved ones benefit from Advanced Care Planning. The first step in creating your plan will be evaluating your own needs and preferences. By taking the time to reflect on your situation, you can make thoughtful and informed decisions about your affairs. Advanced Care Planning ensures that your decisions are respected and upheld in the event that you are no longer able to speak for yourself. In addition to protecting your voice, your
plan also provides guidance and clarity to your loved ones who may otherwise be unsure of your wishes or feel overwhelmed at the thought of making such important decisions on your behalf.
Why is ACP important?
In the event that you are no longer able to speak for yourself, you want
to be certain that your wishes are both known and honored. Advanced Care Planning allows you to make those decisions now and communicate them to your loved ones and healthcare
providers. A clear expression of your wishes can reduce stress, eliminate potential
disagreements, and provide peace of mind for your loved ones.
What does ACP include?
The most common elements of ACP are:
• Statutory Durable Power of Attorney: appoints an agent, and alternates, for financial                     and business matters
• Medical Power of Attorney: appoints an agent, and alternates, to make medical                               decisions if you are unable to make decisions for yourself or if you are unable to                             communicate your decisions
• Directive to Physicians ("Living Will"): allows you to make your wishes known to withhold
or withdraw life support in certain circumstances
• Last Will and Testament: sets forth terms of management and disposition of assets upon
your death
• Other potential elements of ACP are:
o Appointment of Agent to Control Disposition of Remains
o Designation of Guardian in Advance of Need
o Do Not Resuscitate, Funeral Plans
o Revocable Trust Agreement ("Living Trust")
What happens if my wishes change?
Your plan is not set in stone as long as you are living and
have capacity. You can and should evaluate your plan over time to ensure that it continues to
work for your situation and accomplish your goals. When you want to make a change, you are
free to amend or revoke any of the appointments or designations you have made, so long as you have legal capacity.
How legally binding is an ACP?
The individuals you appoint to act on your behalf owe you a fiduciary duty. In other words, your agent has a legal duty to act honestly, fairly, and loyally with  respect to your interests. Your agent can be held liable for any breach of that duty. For example, if you sign a Directive to Physicians, any agent you appoint under a Medical Power of Attorney must honor the choices made in your Directive. It is important to note that some documents become effective immediately upon signing while others do not become effective until a physician determines that you are incapacitated. Before the documents become effective, you maintain sole decision-making authority with respect to all your affairs.
How do I start?
First, take some time to reflect on your values and priorities, the people you trust
to act on your behalf, and how you would want them to handle your affairs. You may want to
have a conversation with those people about your wishes and goals. Then contact an
experienced attorney for specific guidance about the best way to implement your plan.